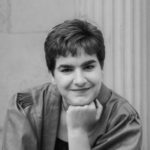 About Mari Anne Christie
Mari Anne Christie was "raised up" in journalism (mostly raising her glass at the Denver Press Club bar) after the advent of the web press, but before the desktop computer. She has since plied her trade as a writer, editor, and designer across many different fields, and currently works as a technical writer and editor.
Mari was born into a family history that virtually demanded she become a writer to tell the stories. If her mother's ancestors had stayed in Europe (where they belonged), instead of beheading kings, grasping royal coattails, or running off to war to spite their patriarchs, she might be a Lady-with a capital-L, not an irreverent, vulgar American with ill-advised pretensions. If her father's forebearers hadn't escaped pogroms and potato famines, and roamed the world in Roma-fashion, she wouldn't exist at all. With one side traced back to the Norman conquerors before the Battle of Hastings, and the other traced back through the mean streets of New York City, the doors of Ellis Island, and the peasant revolts of Europe, she need only open a family scrapbook for inspiration.
Her first mainstream historical fiction novel, Blind Tribute—based loosely on the life of her great-great uncle—will be released July 28, 2017, and the first title in her upcoming series, The Lion's Club—based, in part, on her grandmother's childhood in Brooklyn, New York—is expected in 2018. She has also released a book of poetry, Saqil pa Q'equ'mal: Light in Darkness, a modern reinterpretation of the myths of Xibalba, the Mayan underworld. She also reissued a cookbook, A Loaf of Bread, hand-lettered and illustrated by her mother Christie Whaley, before she was born.
She holds a BA in Writing, summa cum laude and With Distinction, from the University of Colorado Denver, and is a member of the Speakeasy Scribes, the Historical Novel Society, and the Denver Press Club. She has a long family history in Charleston, South Carolina, and is the great-great niece of a man in the mold of Harry Wentworth.
About Mariana Gabrielle
Mariana Gabrielle is a pen name for Mari Christie, who is not romantic—at all. Therefore, her starry-eyed alter ego lives vicariously through characters who believe in their own happy-ever-afters. And believe they must, as Mariana loves her heroes and heroines, but truly dotes on her villains, and almost all of her characters' hearts have been bruised, broken, and scarred long before they reach the pages of her books.
She has written multiple Regency romances, including the Sailing Home Series—Royal Regard, 'Tis Her Season, and Shipmate—as well as the (ongoing) Masala Rajah Series, La Déesse Noire: The Black Goddess and its prequel short, Lord Coventon's Concubines. She also maintains an ongoing serial Victorian romance, Never Kiss a Toad, with co-author, Jude Knight, on Wattpad. You can learn more about her books at www.MarianaGabrielle.com.