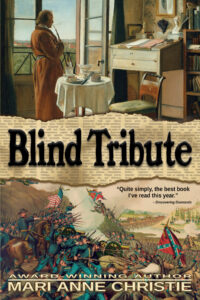 Freedom of the press is in peril. Families are torn apart by politics and principle. Opposing political parties manipulate the public in speeches, public meetings, and the media, grasping for votes and consolidating power. Foreign nations peddle influence in all directions to achieve their own ends. The struggle between citizens and government tugs at the threads of the American Constitution… and democracy itself. In a matter of moments, the United States will shatter, beginning the long march of the American Civil War. 
Harry Wentworth, gentleman of distinction and journalist of renown, spends a lifetime of social and financial capital, exploiting his position as Executive Editor of the Philadelphia Daily Standard, to try to arrest the momentum of both Union and Confederacy. To his sorrow and disgust, his calls for peaceful resolution are worth no more than the ink he buys to print them. As such, he must finally resolve his own moral quandary: comment on the war from his influential—safe—position in Northern Society or make a news story and a target of himself south of the Mason-Dixon Line, in a city haunted by a life he has long since left behind? His choices, from the first day of the war to the last, will irrevocably alter his mind, his body, his spirit, and his purpose as an honorable man.
ORDER EPUB OR MOBI FROM YOUR FAVORITE RETAILER HERE.
GET BOOK CLUB QUESTIONS HERE.
---
Blind Tribute Large Print Paperback Edition (two volumes)
Send a sample chapter in print to someone you know
---
The Press Wrestles with the President, a Blind Tribute novelette, in the Speakeasy Scribes' anthology, Rejoice and Resist
For Blind Tribute backstory, check out "The Press Wrestles with the President" in the Speakeasy Scribes' new anthology, Rejoice and Resist. Available for pre-order now, releasing November 1, 2017.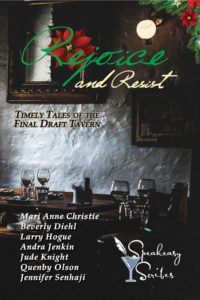 Come share a drink in the Back Room of the Final Draft Tavern, where for nearly a millennium, the Marchand family and their cat, Whiskey, have led travelers through time and space: rebels and dissenters, heroes and villains, artists and lovers. These seven short stories feature characters united through the ages by resistance to tyranny, and celebrating the right to speak truth to power. Rejoice and Resist will amuse and entertain, but also inspire you to call out oppression, demand human rights, question the status quo, and stand up to be counted.
Travel backward and forward through time with multiple authors and fiction genres: drama, horror, women's fiction, historical fiction, time travel, historical or contemporary romance, and paranormal. Shoot through the lens of a photographer or the pistol of a highway brigand; meet death with a ghost-writer, or a president and his cabinet with a deck of cards; brave life in a new country, or just in a new era of civil rights; or conceal yourself in time with an orphan of the apocalypse.
Whatever role you take in the struggle toward justice, step through a secret passageway and pull up a barstool, let the closest Marchand pour you a libation, and celebrate the holiday season with the Speakeasy Scribes.
---
If you loved the editorials in Blind Tribute, you can now purchase "Wentworth and Hoyt Bulletins" exclusively on this website, featuring some of the most popular of Harry's writings.
---
The Grass Snake Gazette: "My Broken Home"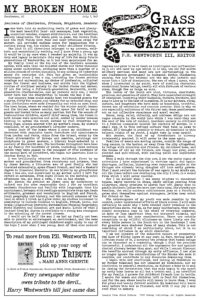 ---
Or get the whole collection
---
The Blind Tribute Book Club Set
---